Dental Implants - Spring, TX
Restoring Your Smile: Crown and Root Included
Missing teeth affects millions of Americans every year, especially once they hit a certain age. Approximately 40 million are missing all of their teeth, making basic tasks like eating and speaking incredibly difficult. If you want to smile like you used to but don't want to settle for dentures or bridges that don't address the underlying issues tied to tooth loss, dental implants from Dr. Kuykendall may be the solution for you. Contact our office and get started planning your treatment!
Why Choose Spring Dentist for Dental Implants?
Implant Placement Performed Onsite
CBCT Scanner for Improved Treatment Planning
Nitrous Oxide and Oral Conscious Sedation Available
Benefits of Dental Implants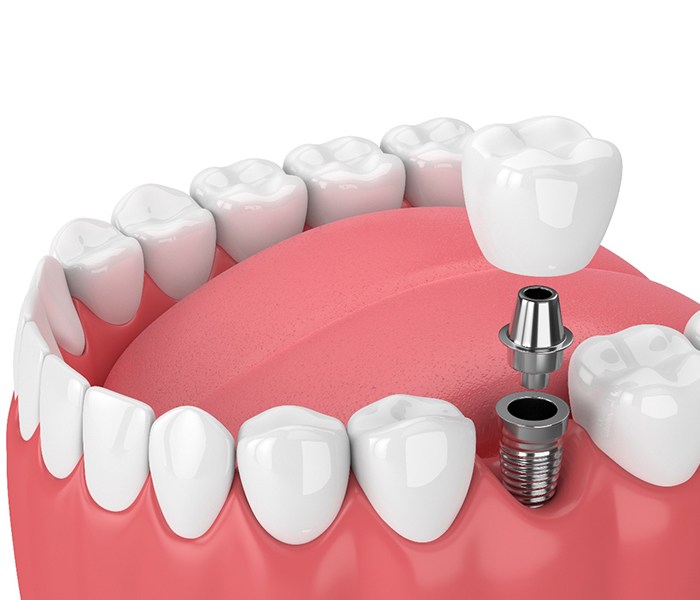 It's important to keep in mind that dental implants are intended to replace the entire tooth structure, including the root portion that sits beneath the gum tissue. Because of this feature, those suffering from tooth loss can effectively stop and even reverse common side effects of the condition. This includes bone resorption, which is the process of unused bone receding back into the body. If you want to retain your jaw's fullest biting force and eat the foods you've always enjoyed, whether that's apples or steak, dental implants make it possible again.
Additionally, dental implants look and feel more natural than any other tooth replacement option on the market to date. Common side effects of tooth loss include hollowing out of the cheeks and premature signs of aging, mainly because of bone loss. Dental implants restore blood flow to the cheeks and gum tissue, which helps you maintain your overall facial shape and youthful appearance.
Finally, dental implants last longer than any other tooth replacement because of their organic integration with your jaw. When placed by a professional like Dr. Kuykendall, they can easily last a lifetime if properly maintained.
Indications for Dental Implants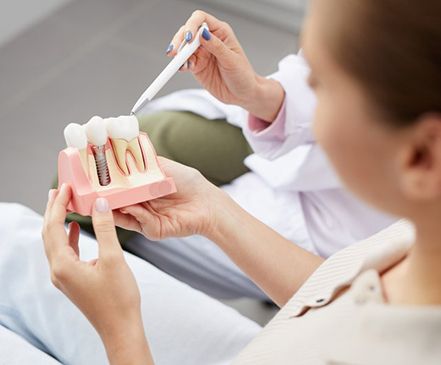 Not only can dental implants replace teeth more effectively, but they can resolve varying degrees of tooth loss as well. If you're missing one tooth, multiple teeth, or all of your teeth in either arch, there's a solution for you to consider. Check them out below to learn more details!
Missing Single Tooth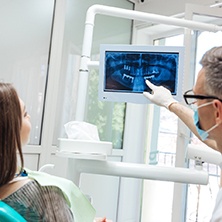 To replace individual teeth, a single titanium implant is combined with a porcelain crown and abutment connector. The abutment keeps the restoration stable, while the implant organically integrates with bone tissue thanks to its inherent biocompatibilities.
Missing Multiple Teeth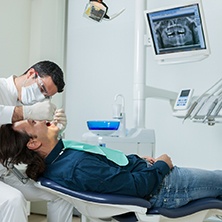 A traditional bridge requires removal of tooth structure to be placed and anchored properly, but implant-retained bridges only require implants to hold a restoration. If you have consecutive missing teeth in your jaw and don't want to remove existing tooth structure, dental implants offer a viable alternative.
Missing All Teeth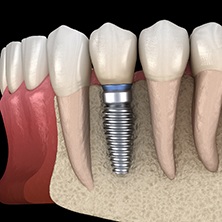 Implant-retained dentures, whether they are full or partial, fixed or removable, provide a more stable and longer-lasting solution to extensive tooth loss. If you're tired of having to reline, repair or replace your denture every several years, implant-retained solutions can make your daily life a whole lot easier.
Learn More
How Dental Implants Work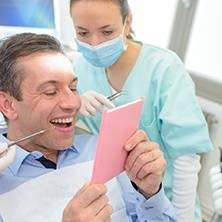 Dr. Kuykendall offers start-to-finish convenience for dental implants at Spring Dentist. The entire process, from planning, to placement, to fitting the abutment and restoration, is performed in-house. Our office believes that by keeping the process under one roof, it's easier to schedule follow-up appointments and enhances the patient-doctor relationship overall. Keep in mind that the length of your treatment can vary depending on how complex your needs are. For example, a single tooth replacement is going to take less time and planning than something as complex as a three-unit, implant-retained bridge.
Understanding the Cost of Dental Implants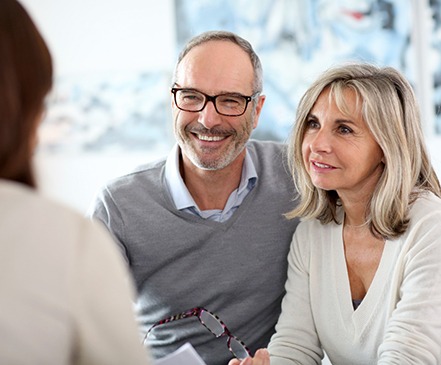 Dental implants are customized to your exact needs, which is why determining an exact cost before having your implant consultation is not typically feasible. During your meeting with Dr. Kuykendall, he'll confirm all of your needs upfront, including the number of implants and type of restoration needed to restore your smile. In some cases, preparatory treatments like bone grafts or periodontal therapy are also needed to make implants viable.
Remember that dental implants are intended to outlast all other tooth replacement options currently available. Consider them to be a long-term investment not just for your smile, but your oral health as well. Their restorative benefits, longevity, functionality, and aesthetics are more than worth the cost compared to the maintenance and pitfalls of similar treatments.