Dental Implants – Spring, TX
An Unparalleled Method of Tooth Replacement
Tooth loss affects millions of Americans every year, especially once they hit a certain age. Approximately 40 million adults in the U.S. are missing all of their teeth, making basic tasks like eating and speaking incredibly difficult. If you want to smile like you used to but don't want to settle for dentures or dental bridges that don't address the underlying issues tied to tooth loss, then dental implants in Spring, TX might be the solution for you. Plus, Dr. Joshua Kuykendall can complete every step of the dental implant process under one roof. Contact our dental office and get started on rebuilding your smile!
Why Choose Spring Dentist for Dental Implants?
Dental Implants Placed & Restored In-House
CBCT Scanner Improves Treatment Accuracy & Safety
Insurance-Friendly Dental Practice
What Are Dental Implants?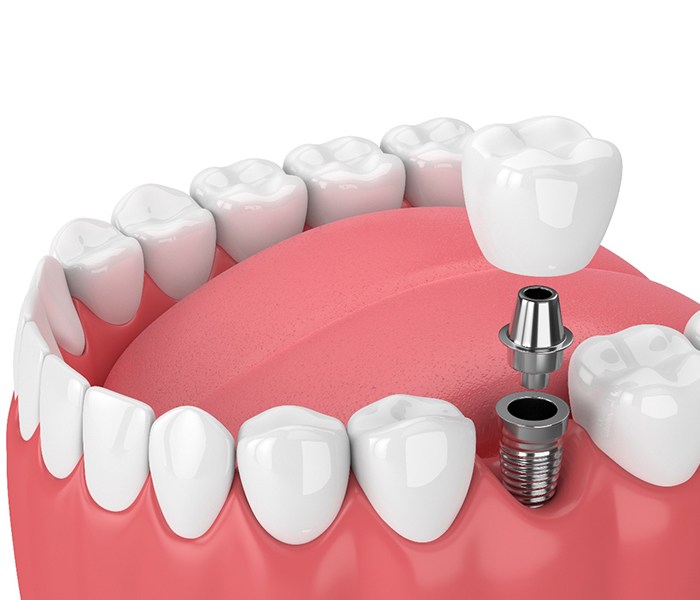 A dental implant is made up of three parts: a titanium post, a lifelike dental crown, and a metal abutment that connects the two. Dr. Kuykendall surgically places the implant post into your jawbone where the root structure of your missing tooth once was. Because titanium is biocompatible, the implant then encourages the surrounding bone and tissue to grow around it. This creates a foundation that is as stable as your real teeth. Using the abutment, we can place a crown (or a bridge or denture for patients with extensive tooth loss) on top of the implant, completing your smile. The end result is an unparalleled method of tooth replacement that looks and feels exactly like the pearly whites you once had!
The 4-Step Dental Implant Process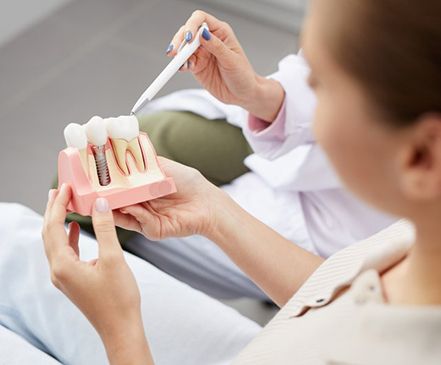 At Spring Dentist, Dr. Kuykendall can provide start-to-finish dental implant care himself, making the process incredibly convenient for everyone involved. Keep in mind that the length of your treatment can vary depending on how complex your needs are. In most cases, getting dental implants takes somewhere between six months and a year. However, they can last a lifetime if you take proper care of them! No two treatments are exactly the same, but here's a basic outline of the four steps of the dental implant process.
Initial Dental Implant Consultation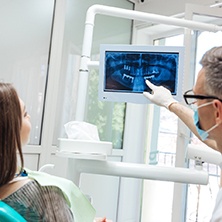 The first step in your journey to a more complete smile is to schedule a consultation with us for tooth replacement. During this appointment, we'll discuss a customized treatment timeline with you as well as go over all of your options for restoring your dental implant. We may also recommend one or more preparatory treatments, such as gum disease therapy or tooth extractions, in order to increase your odds of a successful dental implant placement.
Dental Implant Surgery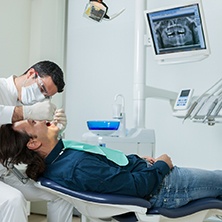 Unlike many dentists, who have to refer you to an outside specialist such as an oral surgeon in order to place your implants, Dr. Joshua Kuykendall can perform the entire procedure in-house. The surgery itself is pretty straightforward. We will begin by making a small incision in your gum tissue, then placing the implant directly into your jawbone. To protect the implant throughout the healing process and maintain the shape of your gum tissue, a protective cap is placed over it.
Dental Implant Osseointegration/Abutment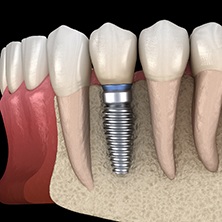 After the implant has been placed, a remarkable process known as osseointegration will occur. The implant post will fuse to your jawbone until the two of them are essentially the exact same structure. This process may take anywhere from three to six months, which is why we usually can't install your replacement teeth at the same time as your implant placement.
Once osseointegration is complete, you'll return to our office for another minor surgery where we'll place the abutment. An abutment is a metal connector piece that will serve as the anchor for your implant restoration.
Delivery of Dental Implant Restorations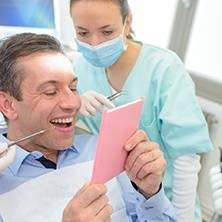 After we receive the restoration (either a crown, bridge, or denture) from our partnered dental lab, we can finally attach it to your implant via the abutment. If we placed a temporary restoration when we installed your implant, we'll begin by removing the temporary. We'll place your permanent crown, bridge, or denture and let you leave our office with a new and improved smile that should last for decades to come!
Are you ready to restore your smile with dental implants? Then give us a call today to book your consultation.
Benefits of Dental Implants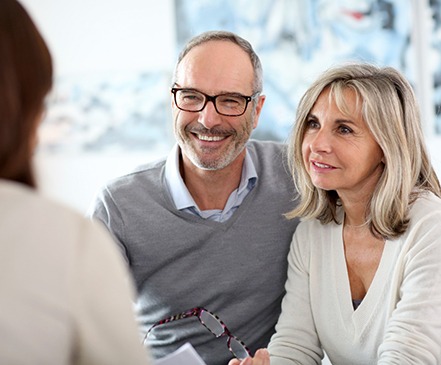 Whether you're missing one tooth or a whole mouthful, dental implants are obviously the best choice when it comes to tooth replacement. They offer clear advantages that other methods, like bridges and dentures, simply can't deliver. That's because implants have unique restorative benefits, especially when it comes to long-term oral health. Here are just a few of the ways that dental implants can change your life!
Replacement Teeth That Can Last a Lifetime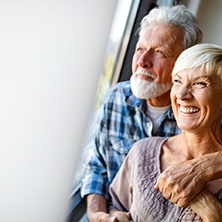 Because of their durability and potential for longevity, dental implants are often considered the most cost-effective solution when it comes to tooth replacement. Dentures and bridges, on the other hand, must be re-fitted or even replaced once every decade or so, while implants can last up to 30 years (or even longer with proper maintenance). Although implants may carry a high initial price tag, you'll find that it saves you money in the long term by not needing a replacement every few years.
Natural-Looking and -Feeling Teeth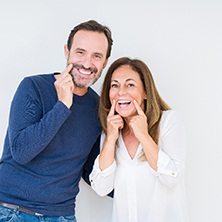 Dental implants replace not just the visible portion of the tooth (called the crown), but also the root structure that lies underneath the gums. While bridges and dentures may offer cosmetic benefits for your smile, they fail to stimulate your jawbone in the way that dental implants do. Because of this, they don't feel quite as natural as the teeth with which you were born. Replacing your missing teeth with implants allow you to attain a smile that looks and feels 100% natural. As an added bonus, bacteria are incapable of breaking down the porcelain material of your implant crown, meaning it's not susceptible to cavities.
No Alteration of Natural Teeth Required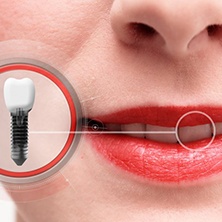 When placing a dental bridge, your dentist has to shave down some enamel of the teeth on either side of the gap in your grin. This is done in order to ensure that your bridge has something onto which it can be anchored. If you're missing multiple teeth in a row, you're much better off getting an implant bridge rather than a bridge alone. In that case, none of your remaining healthy enamel needs to be filed down, allowing you to retain more of your natural tooth structure.
Incredibly High Success Rate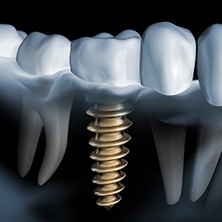 When placed by a dental professional, such as Dr. Joshua Kuykendall (who has the training necessary to place implants himself rather than referring you to an outside specialist), implants have a success rate of more than 95%, even after several decades. You can rest easy knowing that your replacement tooth has the potential to last for upwards of 30 years, provided you take proper care of it with regular brushing, flossing, and dental checkups. In fact, dental implants have a higher long-term success rate than dentures, bridges, and even root canal therapy.
Who Dental Implants Can Help
Not only can dental implants replace teeth more effectively, but they can resolve varying degrees of tooth loss as well. If you're missing one tooth, multiple teeth, or all of your teeth in either arch, there's a solution for you to consider. Check them out below to learn more details!
Missing One Tooth
To replace individual teeth, a single titanium implant is combined with a porcelain crown and abutment connector. The abutment keeps the restoration stable, while the implant organically integrates with bone tissue thanks to its inherent biocompatibilities.
Missing Multiple Teeth
A traditional bridge requires removal of tooth structure to be placed and anchored properly, but implant-supported bridges only require implants to hold a restoration. If you have consecutive missing teeth in your jaw and don't want to remove existing tooth structure, dental implants offer a viable alternative.
Missing All Teeth
Implant dentures, whether they are full or partial, fixed or removable, provide a more stable and longer-lasting solution to extensive tooth loss. If you're tired of having to reline, repair or replace your denture every several years, implant-supported solutions can make your daily life a whole lot easier.
Understanding the Cost of Dental Implants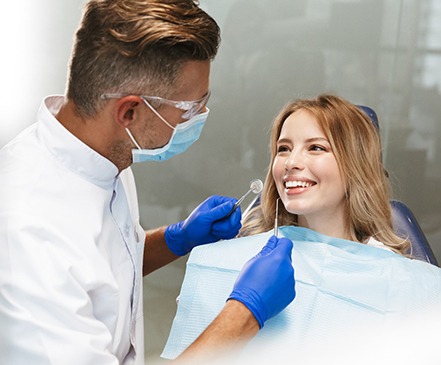 Dental implants are customized to your exact needs, which is why determining an exact cost before having your implant consultation is not typically feasible. During your meeting with Dr. Kuykendall, he'll confirm all of your needs upfront, including the number of implants and type of restoration needed to restore your smile. In some cases, preparatory treatments like bone grafts or periodontal therapy are also needed to make implants viable.
Remember that dental implants are intended to outlast all other tooth replacement options currently available. Consider them to be a long-term investment not just for your smile, but your oral health as well. Their restorative benefits, longevity, functionality, and aesthetics are more than worth the cost compared to the maintenance and pitfalls of similar treatments.
Types of Dental Implants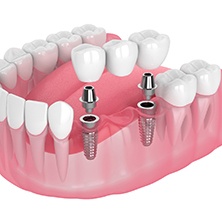 The number of implants you need and the type of restoration you will receive depends on how many teeth you're missing. Dental implants can be used to replace anywhere from one tooth to a whole mouthful of missing pearly whites. The cost of your treatment will also depend on these factors.
Single tooth: If you're only missing one tooth, we suggest an implant-retained crown to fit into your smile like the missing piece of a puzzle.
Multiple teeth: For multiple consecutive missing teeth, we can place an implant-retained dental bridge to restore both the beauty and structure of your smile.
All teeth: Using implant dentures, we can replace your entire smile using four to six implants per arch. This option is significantly studier and longer lasting than conventional dentures.
What Are the Stages of Dental Implant Treatment?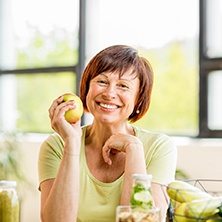 Getting dental implants takes at least a few months and several separate treatments. First comes the initial consultation, where we'll take detailed x-rays to determine exactly where your implants will go. Sometimes we may determine that a preliminary procedure, like a bone graft or sinus lift, is necessary before placing implants.
During your implant surgery, tiny holes will be made in your jawbone, into which the implants will be placed. Afterward, your jawbone must heal for at least three or four months while the implants fuse to your jaw and become a part of you. When you're all healed up, you'll return to our office, where we'll place your permanent restorations, allowing you to enjoy a complete, beautiful smile.
Are Dental Implants Worth the Investment?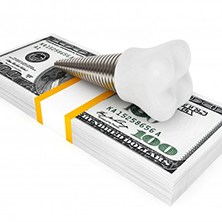 Although dental implants may come with a higher price tag than other tooth replacement options, they actually have the potential to save you money in the long run. With proper care, dental implants can last for decades to come, maybe even the rest of your life. This means you spend less time and money getting your restorations repaired or replaced, like you would with a bridge or denture. Dental implants also come with several other health benefits that other solutions don't offer, like jawbone preservation, which prevents additional tooth loss and keeps you looking young. For these reasons, most patients find that dental implants are well worth the investment.
Does My Insurance Cover Dental Implants?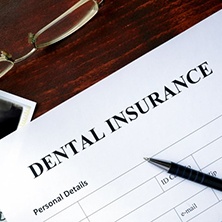 Unfortunately, most insurance companies don't cover the full cost of dental implants. However, our team is more than happy to file insurance claims on your behalf to make sure you're getting the maximum amount of benefits possible from your plan. Sometimes, insurance companies will cover the cost of part of the treatment, such as a bone graft or the restoration. To find out more about how much of your new smile your insurance plan will cover, give us a call today to schedule a consultation.
Dental Implant FAQs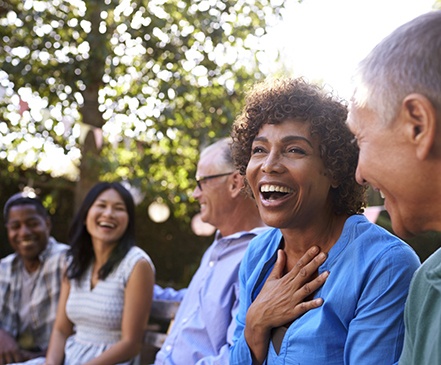 Are you still wondering about whether dental implants are a good tooth replacement solution for your unique situation? There's a reason that this modern restorative procedure comes so highly recommended from patients and professionals alike, and it's because they have so much to offer! For your convenience, we've compiled some common questions we receive from patients below, so you know what to expect from the process.
How long do dental implants last?
With the proper care and maintenance, your dental implants can last for up to 35 years, as opposed to only seven years with traditional restorations. That means that you'll be spending less money and time on dental visits, adjustments, and replacement restorations. Plus, your dental implants will be easy to care for. Here are some basic preventive tips to extend your dental implants' lifespan:
Brush your teeth for two minutes twice each day.
Floss your teeth daily.
Rinse with antibacterial mouthwash regularly.
Visit Dr. Kuykendall every six months for your checkups and cleanings.
By keeping up with routine dental hygiene, you'll be able to prevent oral health issues such as gum disease from developing, keeping the foundation for your dental implants (your gums and jaw) as healthy as possible.
What is it like recovering from dental implant surgery?
Recovering from dental implant surgery isn't as bad as many patients feel it will be. In fact, many of our patients are able to go back to their daily routines the very next day! In the first 24 hours, you may experience some bleeding, which can be minimized by biting down on a gauze pad placed on your wound. To keep any swelling down, be sure to place a cold compress on your cheek for 10 minutes on and 10 minutes off. Other than that, any pain can easily be managed with over-the-counter medications such as Advil, Motrin, or Tylenol. If we prescribe you pain medication, be sure to take that as directed to minimize any discomfort.
Is dental implant placement painful?
The actual dental implant surgery is actually easier than taking a tooth out. We use local anesthesia, so you don't feel a thing while we're placing the titanium posts. If it's also a comfort, you won't be awake either. The jawbone where we'll be placing the implant doesn't have many pain-sensing nerves either. If you do feel nervous before the surgery, at Spring Dentist, we also offer sedation dentistry techniques to help you feel relaxed.
Why is it important to replace missing teeth?
Even if you're just missing a single tooth, it's still important to get it replaced. Without anything stimulating the area of your jawbone where your missing tooth roots are, it will begin to deteriorate, or thin out. This can cause your facial shape to change and cause you to need a bone graft before you'll be able to have dental implant surgery. Plus, each of your teeth helps hold the others in place, so having a gap in your mouth can cause your existing natural teeth to drift out of place.
Maintaining & Caring for Your Dental Implants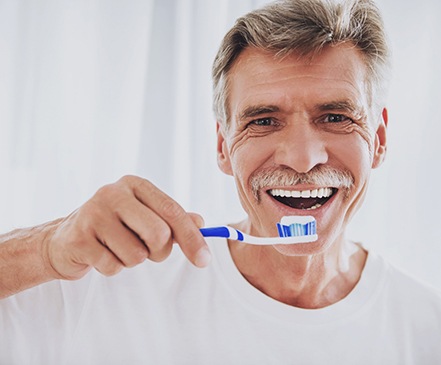 The aftercare of dental implants requires time and patience. Once they are surgically placed, it is likely you will experience some soreness, swelling, and discomfort among other effects; however, by following our detailed instructions and making sure you get plenty of rest, you'll move swiftly through your recovery and stay on the path to a new and improved smile. Our team will be available to assist should you require additional care or need help when dealing with various aspects of the healing process.
Make Oral Hygiene a Priority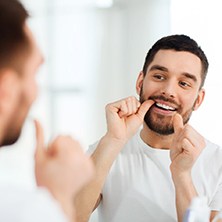 Once you return home to heal after having your dental implants placed, you will need to continue your regular oral hygiene routine. However, you will need to be careful around the surgical sites to avoid irritating or harming your implants.
To ensure that your mouth remains decay and disease-free during this time, make sure to:
Avoid brushing near the implant sites for a few days. After this time, you can begin to use a soft-bristled toothbrush.
Instead of using mouthwash to rinse your teeth and gums, opt for saltwater, as this will help speed up the healing process.
Make sure to rinse your mouth after eating each time.
Try not to chew on the side of your mouth that have new implants.
If dental floss is too difficult to use, consider a water irritator that is much gentler.
Use a cold compress or ice pack to reduce swelling and minimize discomfort.
Take any antibiotics or medications as directed.
Protect Your Dental Implants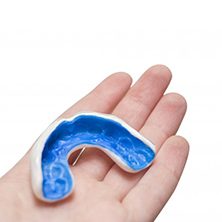 When it comes to caring for your dental implants, there are several steps you can take to keep them looking and feeling their best, including:
Allowing the anesthetic to wear off before attempting to eat anything
Avoiding tobacco or smoking until your implants are healed. If possible, try to quit before you have them placed
Avoiding any strenuous activity for at least 48 hours after placement
Trying not to touch or prod at the implant sites
Wearing a mouthguard if you are prone to teeth grinding
Wearing a sportsguard if you plan to engage in sports-related activities
Avoid hard, crunchy foods, as these can damage both natural and artificial teeth
Maintain a good oral hygiene routine to help strengthen your natural tooth enamel and avoid gum disease that can negatively impact your dental implants
Should you being to feel as if a dental implant is causing problems, or if you experience damage to one of your implants, don't wait to call us. We will need to see you as soon as possible to determine how severe the problem is and what course of action to take to remedy the issue.
Schedule Regular Recall Visits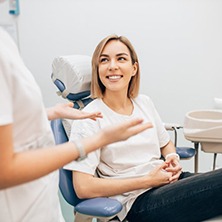 It is necessary that you maintain regular visits to see our team. Why? Because it is still important that we help you maintain a healthy smile with regular checkups and cleanings, but we also want to be able to examine your restorations to ensure they are still firmly in place and presenting no problems to your oral cavity or smile. These regular recall visits make it possible for us to immediately diagnose any issues early on and avoid unnecessary dental care in the future.