Emergency Dentist — Spring, TX
Get Treatment the Same Day as Your Emergency!
When a dental emergency strikes, it's not something you should put off. Whether it's an oral infection caused by unremoved plaque and decay, or a broken or knocked-out tooth caused by forced trauma, both circumstances require professional attention. Dr. Kuykendall and his team will do everything they can to see you as soon as possible, ideally the same day. It could mean the difference between saving your tooth and needing a replacement later, so don't delay; call our dental office to schedule an appointment for emergency dentistry in Spring, TX!
Why Choose Spring Dentist for Emergency Dental Care?
Same-Day Availability – Convenient Dental Office Hours Including Fridays
Our Dental Office is Equipped to Treat All Dental Services
Multiple Sedation Options for Comfortable Care
How We Treat Dental Emergencies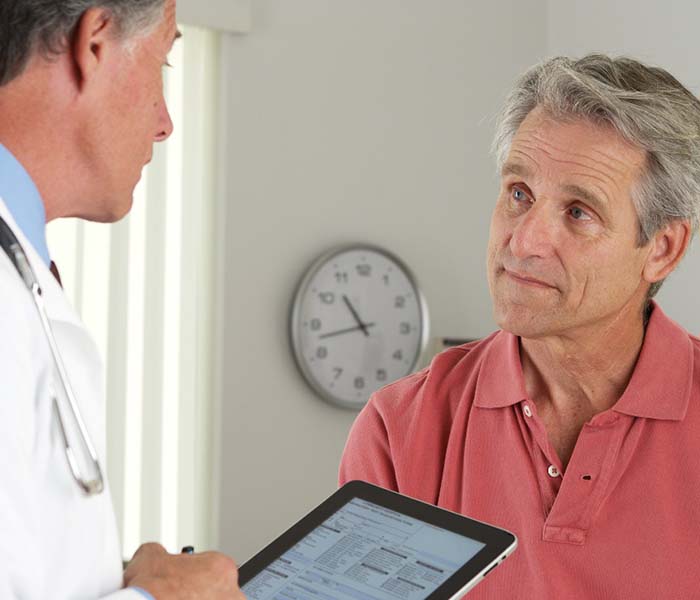 Same-day appointment: When you call our office, we'll make sure to get you scheduled for an emergency exam the same day whenever possible. We'll also provide first-aid tips that can help you manage your pain or other symptoms before you arrive. We are largely equipped to handle just about any dental emergency, so don't wait to get in touch even if you aren't sure you're dealing with a dental issue.
Emergency exam: After you arrive, Dr. Kuykendall will perform an emergency exam to confirm the source of your symptoms. This process may involve digital X-rays if the problem is not easily visible.
Review findings: Once we finish your exam and do everything we can to alleviate any discomfort, Dr. Kuykendall will recommend a treatment plan to address your emergency. This plan will include estimated costs and the amount of time we expect it to take, so you can make an informed decision before committing.
Get the care you need: Whether you need dental fillings, crowns, root canal therapy, tooth extraction, or another service to resolve your dental emergency, we will work as quickly as possible to provide you comfortable and personalized care.
The Most Common Dental Emergencies
When a dental emergency occurs, most people aren't exactly sure what to do. To start, you should always call our dental office to schedule an appointment. This way, you can get your issue handled sooner rather than later and you can speak with one of our team members who can provide additional assistance, regardless of the type of dental emergency you're dealing with. Of course, you should then take the necessary steps to stabilize your condition until you arrive, which you can find tips for below.
Understanding the Cost of Dental Emergencies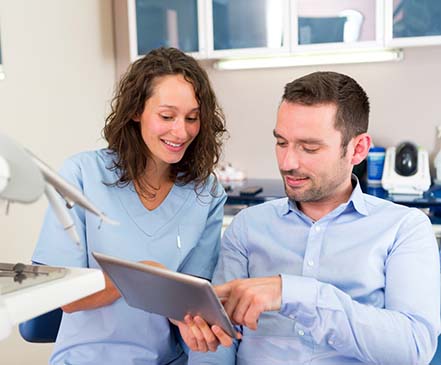 When a dental emergency occurs, the last thing on your mind is how much it will cost to fix the problem. The shock and pain take precedence as you scramble to remember what you need to do to take care of the situation while at home. It's not until you make the phone call to your dentist's office that you suddenly begin to think about the financial aspect of your knocked-out tooth. At Spring Dentist, Dr. Kuykendall wants you to be more concerned about your oral health than what it costs to maintain, improve, and even repair it. This is why you can expect helpful staff members to alleviate the stress of financial responsibility by working on your behalf with the insurance company as well as providing additional resources that will make paying for your dental emergency more manageable for your budget. Call us today to find out more.
What Factors Can Influence the Cost of Emergency Care?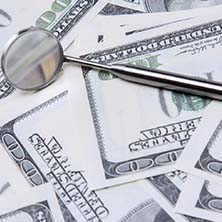 It should come as no surprise that an emergency visit to the dentist's office will most likely cost more than a traditional checkup or cleaning. However, there are several factors that must be considered in order to better understand how much you can expect to pay for emergency care. Some of these include:
Location of dental office: Larger cities or places where the cost of living is high tend to be more expensive.
Dental insurance: If you have dental insurance, you can expect the cost of your treatment to be significantly less, reducing your out of pocket expenses.
Type of restorative treatment: Depending on the type of restorative care you need, the costs will vary, as will the level of coverage by your insurance carrier.
Financial Options Available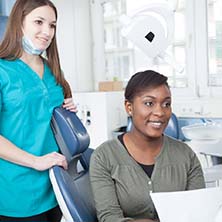 At Spring Dentist, we are proud to be an in-network provider for many PPO dental insurance plans, some of which include:
But if you are uninsured and need assistance paying for your treatment, we can help you apply for a custom payment plan through CareCredit. This is a third-party financier that offers flexible financing schedules with little-to-no-interest.
Importance of Scheduling a Consultation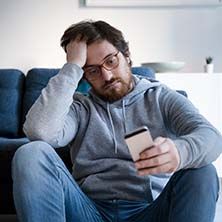 Since no specific cost can be applied to emergency dentistry, it is important that when one occurs, you get in to see us as soon as possible. By scheduling a consultation or appointment, Dr. Kuykendall can examine your oral cavity and determine the severity of the problem. If you require only minor services and have dental insurance, it may be possible for you to be covered at 70-80%. However, if you need a major restorative service such as a root canal or tooth extraction, you may only have 50-70% of your procedure covered by insurance.
Again, it is important to consider all the factors when undergoing treatment for a dental emergency, but never let it keep you from receiving care. Our dental team is here to help and will go above and beyond to make sure you not only get the care you need but that you remain stress-free as we work to minimize your out of pocket costs.
How to Prevent Dental Emergencies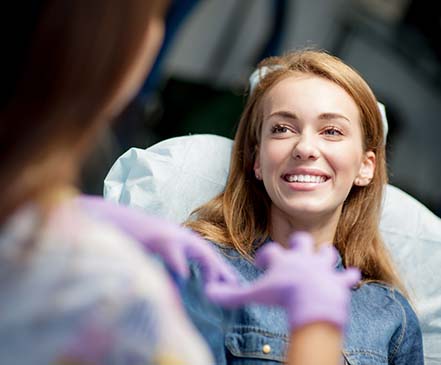 No one wants to experience a dental emergency but unfortunately, they happen all too often. While it is comforting to know that Spring Dentist is here to provide the care you need when you need it most, wouldn't it be better to know how you can prevent these types of injuries in the first place? When it comes to oral and overall health, prevention is key to combatting disease and damage, so, if you want to learn what you can do to keep your teeth and gums healthy and intact, review the following information about how to prevent dental emergencies in Spring, TX. Should you have additional questions or concerns, please don't hesitate to contact us.
The Damaging Effects of Food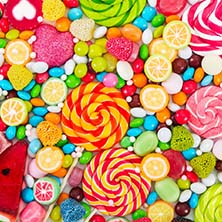 Over time, your teeth will begin to wear down as a result of daily use (i.e. eating, chewing). However, in most cases, the food you eat will not cause you to chip or crack a tooth or lead to tooth decay. That is unless you overindulge in sugary foods or choose to eat something hard or crunchy. Too much sugar can cause tooth decay and cavities to develop, and hard, crunchy foods can cause you to accidentally damage a tooth and require restorative or cosmetic dentistry to fix it. If you want to avoid the need for a filling, dental crown, or veneers, limit the amount of sugar you consume and avoid foods that can cause you to lose parts, if not all, of your teeth.
The Grinding or Hard-Hitting Impact on Your Teeth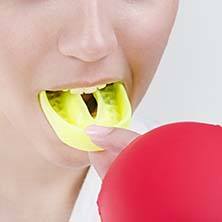 Teeth grinding is a common problem among children and adults. Causing excessive wear and tear on tooth enamel, bruxism can lead to temporomandibular joint disorder (TMD) or even sleep apnea. To combat this issue, make sure you talk to Dr. Kuykendall about a custom mouthguard to wear at night. This will keep your teeth from coming into contact with each other as well as relax your jaw muscles.
If bruxism isn't what is putting your teeth in danger but instead, sports, a customized sportsguard can offer a greater level of protection while out on the field. Should a hard-hitting tackle or spiked volleyball occur, these oral appliances can protect against soft tissue lacerations, knocked-out teeth, cracked or chipped teeth, and even lessen the impact of a concussion.
The Benefits of a Good Oral Hygiene Routine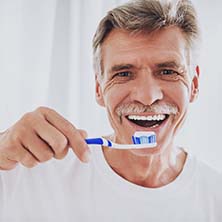 Brushing your teeth twice a day for two minutes, flossing at least once a day, and rinsing with an ADA-approved mouthwash are all key aspects of a good oral hygiene routine. Throw in fluoride toothpaste and a tongue scraper, and you have all the components of a healthier smile. When teeth are plagued by decay, this can make them unstable and frail, opening them up to becoming easily damaged should an accident occur. Regular maintenance of your teeth and gums are a great way to combat dental emergencies. Not only are healthy teeth stronger and more durable, but they will last longer.
Dental Emergency FAQ's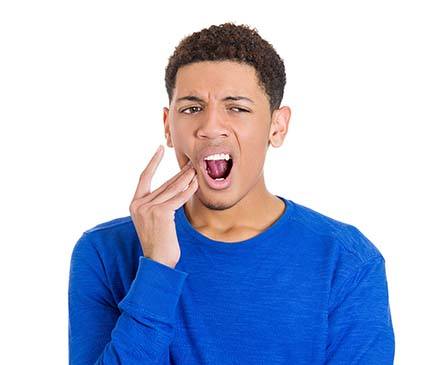 Do you know what to do when a dental emergency occurs? Before you start to panic, your emergency dentist in Spring wants you to take a breath and know that we are here for you. That's right! Our team is equipped and ready to handle your individual problem. From the moment you call and alert us to the situation to the time you leave our dental office, we'll be with you every step of the way. Should you experience a crisis situation that involves injury to your teeth or gums, we want you to be prepared and have the confidence to handle the situation until you arrive at our dental office. This is why Dr. Kuykendall at Spring Dentist has compiled a list of frequently asked questions about dental emergencies for you to review.
Do I need to go to the ER with a dental emergency?
It's not always easy determining if your specific injury is worth a trip to the ER or the dentist, so to help you better decide, know that if any of the following is occurring, get to your local emergency room as soon as possible:
Bleeding that does not stop
A broken or fractured jawbone
Swelling that does not go down
No matter where you end up going, make sure to always contact us and alert our team to your current situation. If the situation is serious enough, we will tell you to seek treatment at an ER.
Do you accept same-day appointments for dental emergencies?
Absolutely! We are pleased to offer our patients same-day availability with convenient dental office hours, including on Fridays. We know dental emergencies can happen at any time, so don't be afraid to call us when this happens to you. Our team members will walk you through what you should do at home and determine if you should get in to see Dr. Kuykendall right away.
Does insurance cover dental emergency visits?
Most dental insurance companies understand that accidents happen and when they do, you need coverage. You'll need to check with your insurer to determine how much they will cover for these types of emergencies as well as the level of coverage for possible restorative dental work. If you've chipped, cracked, or knocked out a tooth, it will be necessary to fix it before the problem worsens.
If you're unsure what your policy states or would rather have a member of our team speak with the insurance company on your behalf, let us know and we'll be happy to assist.