Dentures – Spring, TX
Quickly Regain Your Complete, Confident Smile
Is tooth loss holding you back in life? If you're missing several or all your pearly whites, you already know that missing teeth can make it more difficult to eat comfortably, speak clearly, and feel good about your appearance. Thankfully, at Spring Dentist, we can help you quickly regain your complete, confident smile with full or partial dentures! These reliable restorations are crafted with state-of-the-art technology and high-quality materials for results that are more comfortable, beautiful, and functional than ever before. If you're ready to replace your missing teeth with dentures, give us a call today to schedule your consultation!
Why Choose Spring Dentist For Dentures?
High-Quality Materials for Beautiful, Long-Lasting Results
Your Comfort and Confidence Are Our Top Priorities
Variety of Denture Solutions Available, Including Implant Dentures
Types of Dentures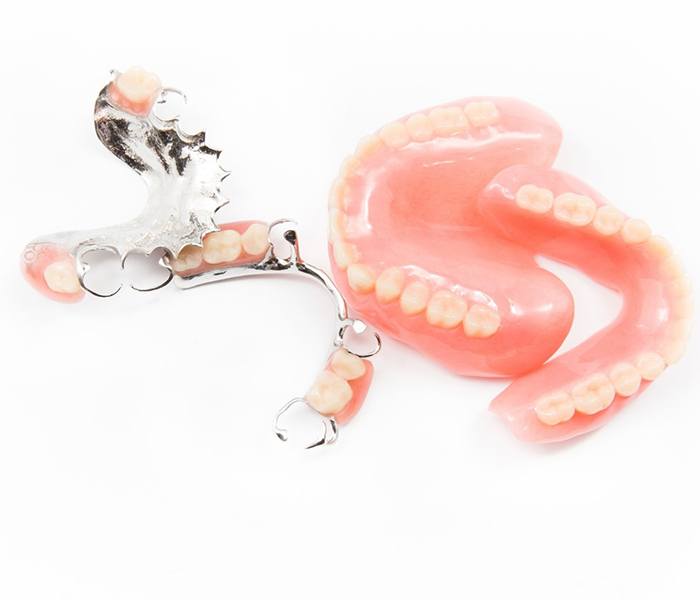 We craft all our dentures out of reliable, natural-looking materials like dental porcelain and gum-colored acrylic to ensure your new smile looks good as new! Depending on the extent of your tooth loss, you may benefit from:
Partials
Partial dentures (sometimes simply called partials) are a good choice for patients missing several teeth. This type of denture is designed to fit around and between the remaining healthy teeth, similar to a puzzle piece. Small, discrete wires wrap around the natural tooth structure for seamless results.
Full Dentures
A full denture can replace an entire arch of missing teeth with one beautiful restoration. These replacement teeth are set into a gum-colored base that's been custom-made to fit closely over the gums. This creates a strong natural suction that secures the denture in place as you talk and eat.
Implant Dentures
Alternatively, you can anchor your denture in place with dental implants. Instead of sitting on the gums or wrapping around remaining teeth, this type of denture is secured with a few dental implants that are placed directly into the jawbone. While this process typically takes longer, the end result is a comfortable, highly functional restoration that can potentially last a lifetime!
Who Is a Good Candidate for Dentures?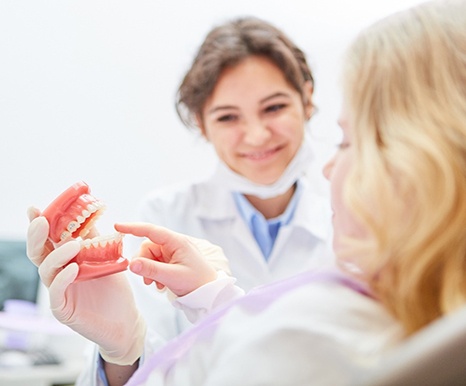 Dentures are a good choice for those suffering from moderate to severe tooth loss. In order to be considered a good candidate for dentures, you'll need to have a healthy mouth. Once we've addressed any issues such as tooth decay, gum disease, or unhealthy teeth that need to be extracted, we can move on to fitting you with dentures. If you're interested in implant dentures, you'll also need to be in good overall health and have adequate jawbone density.
The Benefits of Dentures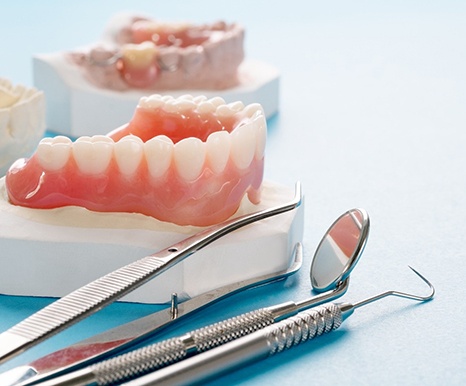 Dentures are still one of the most common ways to replace missing teeth, and it's easy to see why! They offer notable benefits, such as:
Fast results that can last for many years to come.
Natural-looking and beautiful appearance.
Restored ability to eat a full, varied diet.
Filled-out facial appearance that makes you look more youthful.
A cost-effective solution for overcoming tooth loss.
Understanding the Cost of Dentures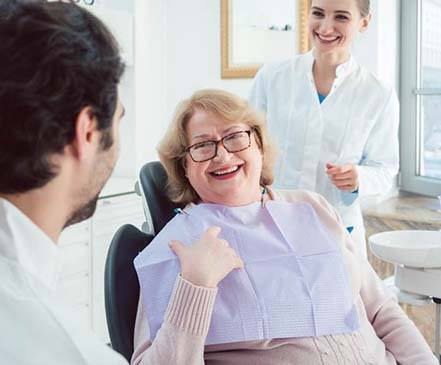 After reading through the types of dentures and the benefits, you may be wondering how much they cost. After all, it's hard to commit to a treatment without knowing the price. While there isn't a flat fee, there are a few factors that will help you determine the cost. To learn what they are, read on!
Factors that Affect the Cost of Dentures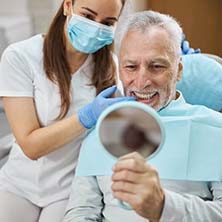 One of the biggest perks of dentures in Spring is that they are completely customized to your dental needs. As a result, your treatment plan will vary depending on a few important factors:
The need for preliminary treatments, such as tooth extractions and gum disease therapy
The number of teeth you are missing (this will determine the type of denture you need)
The materials your dentures are made of
It goes without saying that cheaper isn't necessarily better, especially when it comes to your smile and bite. Investing in quality dentures will benefit your confidence, oral health, overall well-being, and, in the long run, your wallet. Don't worry – our denture dentist in Spring will review each of your treatment options and answer any questions you have during your initial consultation.
Are Implant Dentures More Expensive?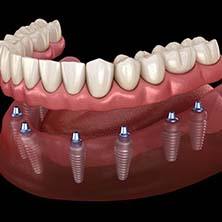 Since implant dentures require oral surgery, they naturally come with a higher price tag. Before you dismiss this option, however, it's important to consider the numerous benefits they provide. To start, unlike traditional dentures, implant-retained ones stimulate your jawbone, preserving your youthful face shape in the process. Furthermore, implant dentures provide increased biting power and last for 10+ years with proper care. As a result, they may end up being the most cost-effective option in the long run.
Does Dental Insurance Cover Dentures?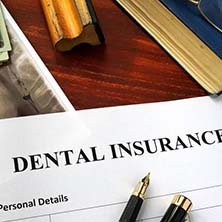 Although the answer ultimately depends on your dental plan, most patients can expect some coverage from their dental insurance provider. If you are unsure of your benefits, our team would be happy to help! Since we are in-network with several of the nation's leading providers, we have the knowledge and experience needed to help you maximize your coverage and understand the cost.
Other Options for Making Dentures Affordable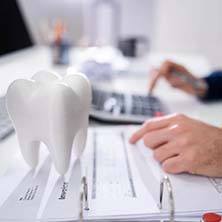 Don't have dental insurance? That's okay! With Spring Dentist, there are plenty of other options available to help you save on restoring your smile, including:
An in-house membership plan – With our in-house plan, you can get access to the preventive care you need AND 15% off additional treatments without the annoying red tape, like annual deductibles and maximums.
Flexible financing – Want to space-out your payments over the course of several months instead of having to pay one lump sum? Thanks to flexible financing, you can!
Special offers – Our team is proud to offer periodic special offers that help lower your out-of-pocket expenses.