Invisalign – Spring, TX
Ditch Metal Braces For A More Comfortable Alternative
Are crooked and misaligned teeth making your smile look unattractive? You've always thought that the only solution to get a beautiful, aligned smile is metal braces. Invisalign in Spring, TX is a modern orthodontic treatment that utilizes a more comfortable oral appliance to gently nudge your teeth into their ideal position. That way, you won't have to hide your happiness because you're embarrassed by your crooked grin. Whether you're a teenager or an adult, these clear braces will allow you to maintain the appearance you want so you can continue making a great impression on friends and coworkers. To find out if Invisalign is the best cosmetic dentistry solution for you, contact us today!
Why Choose Spring Dentist For Invisalign?
Custom-Tailored Treatment Plan
Advanced Technology
Dedicated Team of Dental Professionals
How Do Invisalign Aligners Straighten Teeth?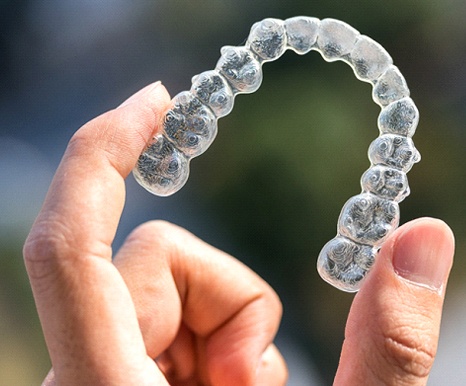 Invisalign treatment utilizes a clear, plastic, FDA-approved material to custom craft oral appliances from. These aligners are thin, smooth, and custom-crafted to fit comfortably over your teeth. Using a gentle amount of force, they will slowly shift your teeth into their ideal positions to fix misalignment, overcrowding, gaps, and even bite problems. Each person's mouth is unique, and treatment plans vary drastically, but the average time that patients wear their aligners for is anywhere from eight to 14 months.
With traditional braces, patients may have to wear them for up to three years. The unsightly metal brackets and wires can feel and look cumbersome, impacting your ability to maintain a professional image at your workplace. However, with Invisalign aligners, they're so discreet that few people will even notice that you're wearing them. All they'll see is your beautiful smile!
What Are the Benefits of Invisalign Treatment?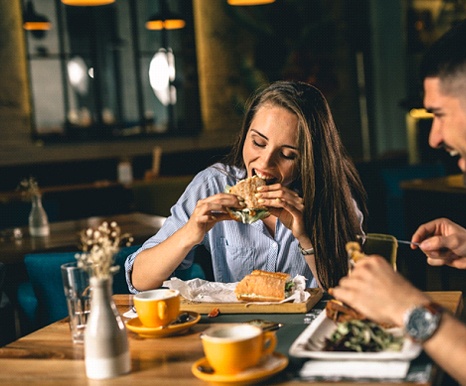 Many patients choose Invisalign over traditional metal braces because it offers a laundry list of advantages. Not only is the treatment all-around more convenient, but you won't have to deal with the discomfort and hassle that you would if you crowded your mouth with brackets and wires. Some benefits you can enjoy when you choose Invisalign to straighten your teeth include:
More Comfortable. Metal wires and brackets can scrape against oral tissues and cause irritation. With Invisalign aligners, they're smooth and fit snugly over your teeth.
Whenever you need to, you can remove your Invisalign aligners. This makes it easier to do basic tasks such as brush, floss, and eat the foods you enjoy.
Custom-Formed To Your Smile. Each Invisalign treatment plan is custom-tailored to each patient's unique smile to deliver the best results.
Throughout the treatment, you won't need to take a day off to get your braces tightened and have to deal with intense discomfort afterward. Instead, you'll have short, 15 to 30-minute checkups with your dentist every four to six weeks to pick up your next set of aligners.
Am I A Good Candidate For Invisalign?
The best way to find out if Invisalign clear braces are the best orthodontic treatment for you is to schedule a consultation with Dr. Joshua Kuykendall. He has completed advanced training in clear aligner therapy and Invisalign and can help you determine if it can improve your smile and oral health. Typically, patients that can benefit from the procedure are ones who would like to fix the following issues:
Crooked teeth.
Gaps between teeth.
Mild bite problems.
If you'd like to learn more about this advanced orthodontic treatment, don't hesitate to contact Spring Dentist today. Our team of dental professional will be more than happy to get your journey towards a straighter smile started!
Invisalign FAQs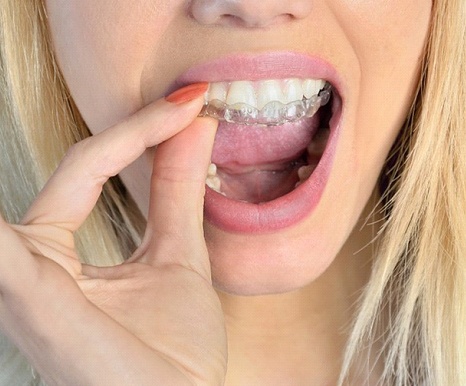 When it comes to straightening teeth, no method is more discreet and comfortable than Invisalign. However, you may have some questions about some of the finer details of the process. This is why we have decided to gather some of our most frequently askes questions about Invisalign and answer them here for your convenience.
Is Invisalign Treatment Painful?
You may have heard that some people experience discomfort after their orthodontist tightens their braces, so you might be apprehensive that Invisalign causes a similar pain. Rest assured that Invisalign is vastly more comfortable than conventional braces. Invisalign works by exerting a gentle pressure on your teeth to shift them into a more aligned position. For this reason, you may feel a slight soreness when wearing a new set of aligners for the first time. You can mitigate this discomfort by switching to your new pair at night so you can sleep through the adjustment process.
How Do I Care for My Aligners?
You can purchase a special cleaning kit directly from Invisalign to keep your aligners in good condition. Alternatively, you could use a clear antibacterial soap and lukewarm water to rinse them off every morning and evening and gently scrub them with a toothbrush. Also, drinking darkly colored beverages will stain your aligners, so it's best to only sip water while you have the trays in.
What If I Lose or Damage an Aligner?
If you damage an aligner, don't try to force it back onto your teeth, as that could cause more harm than good. Instead, call our office and ask about what steps you should take. We might suggest temporarily reverting back to your previous aligner in order to keep your teeth from shifting back to their original crooked position. Or, we might decide to send you a replacement or have you move on to the next aligner in the series.
Will I Need to Wear a Retainer After Invisalign Treatment?
Yes. Wearing a retainer will help ensure that your newly aligned smile stays in its desired place. Depending on your individual case, you may need to wear a retainer 24/7 for a few months after your last set of aligners to keep your smile from shifting. After a certain period of time, we'll very likely suggest that you only wear your retainer at night.
If you'd like to learn more about this advanced orthodontic treatment, don't hesitate to contact Spring Dentist today. Our team of dental professional will be more than happy to get your journey towards a straighter smile started!