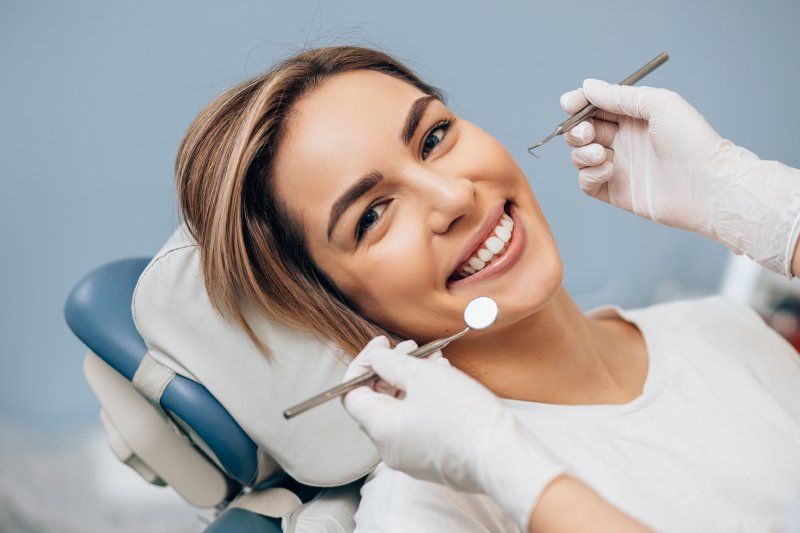 Do you cover your mouth when you laugh to hide a gap in your smile? Or have you been chewing on one side of your mouth to avoid aggravating your problem tooth? If you answered "yes" to either of these questions, then dental implants may be the solution you have been looking for. In addition to their durable makeup, they have a natural-looking finish that blends seamlessly with the rest of your teeth. However, many patients wonder if they can become discolored over time. Read on for the answer and how to ensure your dental implants stay healthy, bright, and beautiful for years to come!
So, Can Dental Implants Stain?
In short, the answer is yes. Like your natural teeth, dental implants have a protective outer layer that keeps them in pristine condition. Although the glaze has stain-resistant properties, extensive damage can negatively impact them and cause them to become discolored. While this won't result in tooth decay or cavities, it can result in unsightly stains that detract from your beautiful smile. Therefore, it is of the utmost importance to view your dental implants as an investment and take proper care of them to prolong their lifespan.
What Causes Damage to Dental Implants?
Thanks to innovations in technology and modern techniques, dental implants today are as resilient as they are natural-looking. While this restores patients' smiles, their ability to chew, and can even improve their speech, it is important to avoid habits and behaviors that can damage them. Therefore, make sure to:
Limit consumption of acidic foods and beverages (i.e., sodas, potato chips, etc.).
Avoid bad dental habits (i.e., chewing on pen caps, opening bottles with your teeth, etc.).
Quit negative lifestyle habits (i.e., smoking, nail-biting, etc.).
Prioritize a proper oral hygiene routine.
6 Prevention Tactics Every Patient Should Know
In addition to avoiding the common causes of dental implant damage, you must prioritize prevention. Not only will this ensure the success of your dental implant, but it will also keep your overall oral health in tip-top shape. Here are six prevention tactics you should implement:
Eat a clean diet filled with vitamin-rich foods.
Brush for two minutes twice a day.
Floss daily.
Always clean your tongue.
Use mouthwash regularly.
Visit your dentist for follow-up visits and your bi-yearly appointments.
For decades, dental implants have remained a leading procedure for restoring smiles, bites, and speech. By avoiding the common causes of damage and implementing effective prevention tactics, you can have the strong, healthy, beautiful smile you've always wanted for years to come!
About the Author
After obtaining his undergraduate degree from the University of Tulsa, Dr. Joshua Kuykendall earned his Doctor of Dental Surgery at the University of Oklahoma College of Dentistry. Since then, he has pursued advanced training in dental implants, Invisalign, and interceptive orthodontics (to name a few!). Plus, he is a member of multiple reputable organizations, including the American Dental Association and the Texas Dental Association. If you would like to speak with him about whether dental implants are the right option for you, don't hesitate to visit his website or give him a call at 281-353-9797.