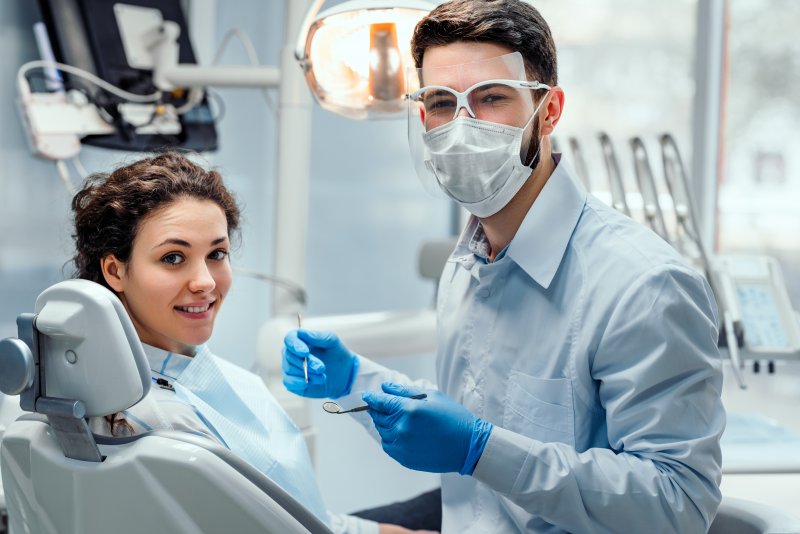 As state officials slowly begin to reopen areas of the economy in phases, dental offices throughout the country are getting back to a level of normalcy by once again, seeing patients for all types of care. From regular checkups and cleanings to elective procedures such as dental crown placement or wisdom tooth removal, dental professionals and their teams are happy to welcome patients back to the office. But is it truly safe to go to the dentist? Before you decide to put off that appointment you scheduled long before the current crisis, learn what your measures are now in place to ensure you have a pleasant experience that is free of unnecessary germs or viruses.
When Is It Safe to Go Back?
Ultimately, only you can answer this question, but the safety protocols found at your dentist's office can help you make the right decision when it comes time to keep or postpone your upcoming appointment. Yes, COVID-19 does remain a threat at this time; however, dental professionals throughout the United States are working to minimize the risk by implementing additional safety measures to avoid contamination or putting individuals at risk of being exposed to bacteria and/or viruses.
If state officials agree that dentist's offices can begin to see patients for all issues and not just dental emergencies anymore, you can have a bit more reassurance knowing that you will be safe when you return for an appointment.
What Safety Protocols Are Now Being Enforced?
While it is likely you are already aware that increased sanitation efforts and wearing personal protective equipment (PPE) are now part of the everyday routine for dental teams, you may not realize that other guidelines are being enforced to add another layer of protection for both staff and patients.
Some of these include:
Spaced-Out Scheduling: This will minimize the number of people inside the office while allowing for more time caring for your oral health.
Teledentistry: This service will help to provide at-risk individuals or those who simply prefer to receive a consultation at home to avoid making a trip into the office. An important note is that only certain consultations and follow-up visits are eligible for this type of dentistry.
Waiting in Your Vehicle: Known as a virtual waiting room, this keeps fewer people moving around inside the office and allows you to comfortably wait in your car until it's time for your appointment.
Increased Personal Hygiene: Staff will be asked to keep all hair up and away from the face as well as ensure all fingernails are kept short to avoid dirt accumulations underneath the nail bed.
While these are only a few of the many recommended guidelines your dentist is implementing, you are encouraged to contact a member of the team to discuss additional steps you can take to prepare for your visit.
About the Author
Dr. Joshua Kuykendall completed his Doctor of Dental Surgery degree at The University of Oklahoma College of Dentistry before going on to pursue advanced training in various dental specialties. At Spring Dentist, he and his team are eager to begin seeing patients once again, but they also understand the hesitation one might feel in returning for necessary dental care. Fortunately, safety protocols are now in place to ensure all appropriate measures are being taken to maintain a clean, healthy environment as well as better protect both staff and patients from possible contamination and exposure to bacteria and viruses. To learn more about what they're doing to keep everyone safe, visit the website or call (281) 353-9797.