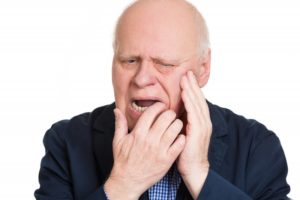 No one likes having dentures that don't fit well. Plus, some studies suggest that ill-fitting dentures are connected to a higher risk of serious, life-threatening health problems, including cancer in the mouth. Oral cancer is the sixth most common cancer, killing about one American every hour on average.
So does this mean that slipping dentures cause oral cancer? Well, not exactly. Read on as your Spring dentist explains how poorly fitting dentures may increase your risk of this serious oral health condition and what to do to keep yourself healthy.
Inflammation and Oral Cancer
Your body's natural response to irritation or infection is inflammation. While this process is typically very beneficial over a short period of time, chronic or long-lasting inflammation can cause cell damage. Changes in cells are called "mutations," which can become cancer cells if they start to grow faster than your body can repair them. The longer the inflammation lasts, the higher the risk of cells becoming cancerous.
How Dentures Fit In
There are a variety of factors that can lead to inflammation in the mouth, many of which can be linked to wearing dentures that don't fit. The CDC reports that it's very unlikely that dentures themselves cause oral cancer. However, slipping dentures that no longer fit properly can potentially contribute to the inflammation that does by:
Trapping tobacco and alcohol: Heavy use of tobacco and alcohol are the main cause of many types of head and neck cancers. These substances dramatically slow down your body's healing process, lower your immune system, and damage the DNA in cells, all of which increase risk of cancer. Ill-fitting dentures can trap tobacco and alcohol particles, holding them in the mouth and prolonging their effects.
Irritating the gums: Dentures that don't fit properly are notorious for causing irritation and sores on the gums, which leads to inflammation. Gum irritation also increases your risk of a serious bacterial infection called gum disease, which can lead to chronic inflammation that boosts your risk of oral cancer.
Leading to poor oral health: While dentures are designed to be easy to clean, ill-fitting dentures have more spaces to collect oral bacteria and plaque. Over time, this increase in dangerous particles can take a toll on your oral health, which is another main risk factor of cancer in the mouth.
Tips to Keep You & Your Smile Healthy
Your dentures themselves won't cause oral cancer, but there are several precautions that denture-wearers should take to minimize their risk, like:
Refrain from tobacco and alcohol use
Clean your dentures and your mouth thoroughly daily
Eat a healthy diet that's high in vitamin C
Visit your dentist regularly for checkups
Have your dentures replaced every 7-10 years
Alternatively, you can talk to your dentist about switching to implant dentures. This modern tooth replacement option is anchored directly into your jaw, which prevents gum irritation, encourages better oral health, and even preserves your jawbone. To see why dental implants are the healthiest tooth loss solution for you and your smile, call your dentist and schedule your consultation today!
About the Practice
The talented team of Spring Dentist is dedicated to providing modern dentistry with old-fashioned hospitality. They offer a variety of tooth replacement options, including both dentures and dental implants, and use state-of-the-art technology and high-quality materials to ensure the best results. In fact, they can even perform every step of the dental implant process right here in their Spring office for maximum convenience and comfort. To learn more about how to protect yourself from oral cancer, they can be contacted via their website or at (281) 353-9797.