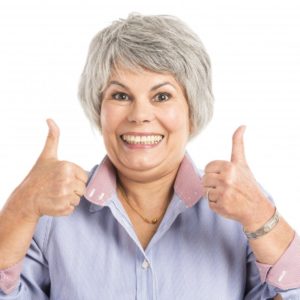 Have you ever wondered how dentists are able to fabricate an almost perfect dental crown to fill in a smile gap? You'll be happy to know that it's not the result of luck or a random selection. This part of the restoration process is carefully conducted to ensure that patients are left with a smile that is just as attractive as it is functional. Continue reading to discover how the right dental crown is chosen.
An Artist and Technician
When it comes to dental crown placement, the dentist has to wear two hats: that of the artisan and technician. The final product of a successful marriage between the two is a dental crown that is aesthetically pleasing and durable. Typically, the restoration can last up to 15 years; thus, it's important to be happy with the way it looks.
The Selection Process
Matching the color of teeth isn't always a simple process. That's because human teeth occupy a small portion of the natural color spectrum. When a dentist evaluates your ivories, he or she isn't just assessing color, as teeth have varying shades. As part of the assessment, the dentist considers the hue, chroma and value of the teeth. Here are details about each category:
Hues – the natural hues found in teeth (yellow, red or gray)
Chroma – the saturation or intensity of the hue
Value – how light or dark the shade is
Thankfully, dentists are able to rely on their experience, advanced techniques, science and modern technology to strike the right balance between these factors. One of the more reliable tools is a shade guide, which is a metal or plastic card with imitation porcelain teeth of many shades that are arranged in a particular order. The dentist will hold the guide to your teeth and compare the natural shade to the examples until the right match is found.
A Joint Effort
The selection process is somewhat subjective, but there is still science involved in making the final decision. Dentists will typically either use sunlight (from a nearby window) or fluorescent lights that mimic natural light. When applicable, patients may be asked to remove any bright lipstick, as it can make colors appear differently.
The dentist will often ask a colleague for a second opinion. You'll also be asked for your input, given that you'll be the person wearing the new crown. Through this joint effort and the usage of effective selection methods, you can rest assured that the dental crown you receive will meet all your functional and aesthetic needs. Therefore, you can get back to leading a fulfilling and normal life.
About the Author
Dr. Joshua Kuykendall earned his dental degree from The University of Oklahoma College of Dentistry. Throughout his career, he has remained an active learner, taking several hours of continuing education annually. This allows Dr. Kuykendall to provide comprehensive and competent care to his patients. He creates beautiful and durable smiles by placing dental crowns at Spring Dentist, and he can be reached for more information or to schedule a visit through his website.