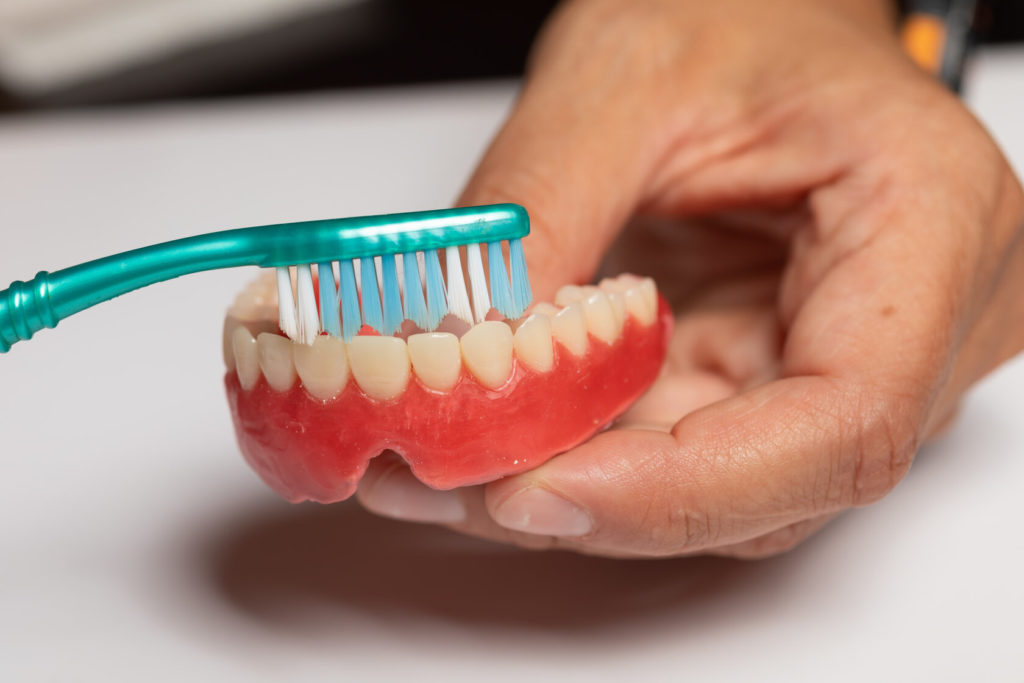 Between working all week and trying to spend some quality time with your friends and family, going through the process of removing your dentures to thoroughly clean them may seem like one too many responsibilities. You may think that cleaning dentures while you wear them is the better option, but this isn't always the most effective way to get the job done. Read on to learn about the recommended method to use to care for your dentures and the benefits it can have on your overall oral health.
Can You Clean Your Dentures While Wearing Them?
Though it's possible to clean your dentures while wearing them, you can achieve a deeper, more thorough clean by removing them first. This is because not every part of your dentures can be reached without taking them out. Removing your dentures before you clean them allows you to reach every surface and get rid of plaque and food debris. This cuts off harmful bacteria's food source and can help prevent build-ups to prevent cavities, gum disease, and other oral health issues.
How to Care for Your Dentures
Caring for your dentures properly is a key part of maintaining a healthy mouth and keeping your smile looking its best. To help you achieve this, here's how to thoroughly clean your dentures and make sure they stay in good condition:
Brush – Use a soft-bristled toothbrush and a specialized denture cleaning paste to avoid scratching or otherwise damaging your dentures.
Safety measures – To avoid breaking your dentures if you accidentally drop them, clean them over a soft towel or fill your sink with water.
Soak – Every night, soak your dentures in a special denture-cleaning solution or a cup of cold, fresh water. This allows them to achieve a deeper clean and keeps them from warping while you aren't wearing them.
Rinse – Before wearing your dentures, make sure to rinse them off to remove any leftover denture-soaking formula. This will help you avoid exposing your mouth to any potentially harmful chemicals in the solution.
Say no to bleach – Since bleach can damage the acrylic of dentures, don't use it unless your dentist instructs you to do so.
Though you may be able to reach some parts of your dentures while wearing them, use the above steps to ensure that your dentures are as clean as possible. Set up an appointment with your dentist to learn more about how to properly care for your restorations so you can maintain a healthy, happy mouth!
About the Practice
If you live in Spring or one of the surrounding communities and have dentures or are looking into getting them, you've come to the right place. Dr. Joshua Kuykendall and his kind, compassionate team at Spring Dentist aim to treat patients with the best care around and to help them maintain excellent oral health. They also offer tooth replacement options like dentures to help you regain some of your bite power and learn to love your smile again. For more information on how to care for your dentures or to make an appointment, call (281) 353-9797 or visit their website.