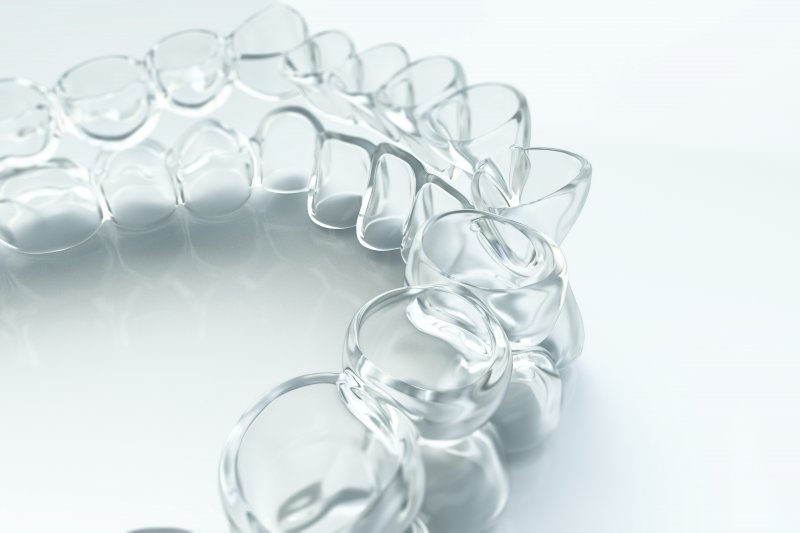 When going through Invisalign, it's important that patients wear their aligners for 20-22 hours a day so that they're better able to correct the teeth. On paper, this might sound like a piece of cake, but it can become complicated in everyday life. Fortunately, your dentist in Spring has three tips for meeting the wear time with Invisalign, ensuring that the process for a straight smile is as smooth as possible!
Tip #1: Limit Snacking
Have you ever heard of the "Invisalign Diet"? This is when, by having to remove their aligners every time they want a meal, a patient begins to notice more about their food habits. As a result, they often pay extra attention to how much they snack.
Since you'll want to wear the trays as much as possible, one way to make the most of your time is to reduce the amount of snacking between meals. Doing so will allow you to take the aligners out less often. To make sure you don't go hungry, you can eat leaner meats and fiber-rich items (like fruits, veggies, and nuts) to keep you fuller throughout the day.
Tip #2: Clean While You Eat
Part of keeping your Invisalign trays in good condition is to occasionally soak them in cleaning crystals or similar substances to wash off the stickier foods and plaque that can collect on them. But where can you find the time to do this? You can multi-task by soaking your trays while you're eating! By doing this, you get your meal, clean your aligners, and provide yourself a quicker schedule for putting them back on.
Tip #3: Avoid Entertainment
Most people like to watch TV or scroll through their phone while they eat. This can actually be a bit distracting, as instead of spending only 15 minutes without their aligners, they may end up going an hour or more before wearing them again. Instead, it's recommended that patients keep away from their phones or other sources of entertainment while they eat, so that they can clean their teeth and place their trays back in immediately after they finish their meal.
It takes time to get used to orthodontic treatments, but by practicing these few tips, you should be able to breeze through the 20-22 hours a day wear time requirement. Afterwards, you'll get to enjoy the perfectly straight smile you worked so hard for!
About the Author
Dr. Joshua Kuykendall earned his Doctor of Dental Surgery at The University of Oklahoma College of Dentistry. As a proud member of the American and Texas Dental Associations, and the Greater Houston Dental Society, he has received advanced training in multiple specialties, including clear aligner therapy and Invisalign. If you're ready to start Invisalign treatment, visit his website or call (281) 353-9797.