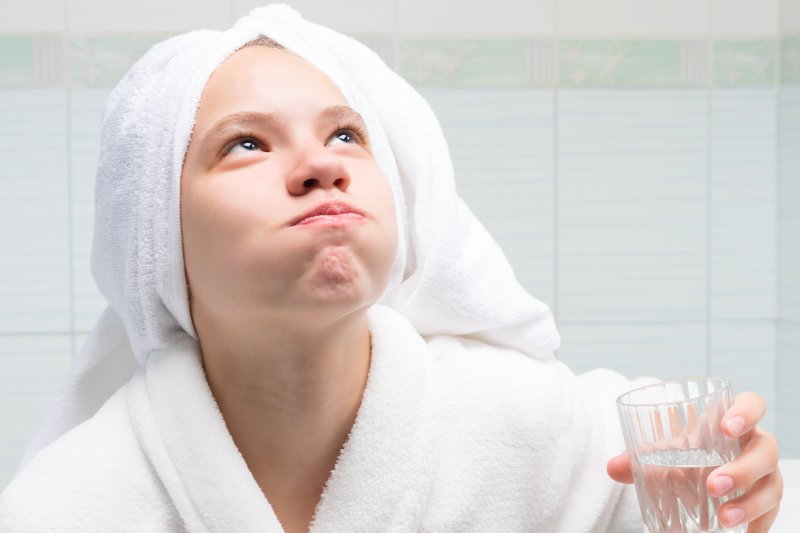 Growing up as a kid, your parents may have told you to rinse your mouth after brushing your teeth. The idea was that it would help you eliminate unneeded toothpaste. However, have you considered that this dental hygiene "wisdom" might be wrong?
Here's a summary of the debate on rinsing after brushing teeth — the case against it, the case for it, and a possible middle ground.
Rinsing May Interfere with Oral Hygiene
Some have argued that rinsing after brushing washes away fluoride, the active ingredient in most toothpaste. Said ingredient helps prevent tooth decay by re-mineralizing enamel and making teeth acid-resistant. Consequently, mouth rinses can prematurely wash out fluoride before it's had any effect. You're better off leaving residual toothpaste in your mouth to reduce tooth decay.
The argument even applies to rinsing with mouthwash. While the latter does have fluoride, toothpaste has more concentrated forms. Rinsing with mouthwash straight after brushing may wash away the concentrated type.
Rinsing Prevents (Minor) Health Risks
You might ingest large amounts of toothpaste if you ditch the rinse step after brushing your teeth. In some cases, the excess fluoride could result in the following side-effects:
Nausea
Diarrhea
Abdominal pain
However, keep in mind that these effects are extremely rare when the proper amount of fluoride toothpaste is used. Furthermore, they usually only occur in children who ingest enormous amounts of fluoride products meant for adults. It would be difficult for a healthy, full-grown individual to suffer from fluoride toxicity simply by swallowing some toothpaste.
So, What *Should* You Do?
There isn't a consensus among experts on rinsing after brushing. On the one hand, skipping it and only spitting the toothpaste out preserves a cavity-fighting fluoride coating. On the other hand, rinsing can help reduce plaque, get the taste of toothpaste out of your mouth, and prevent you from swallowing too much fluoride.
Still, not rinsing could be beneficial for people prone to tooth decay. If you believe that includes yourself, consider not rinsing right after spitting. If you need to use mouthwash, use it at a separate time from brushing to get the full benefits of fluoride toothpaste.
In the end, the choice is up to you. But if you're willing to deal with the extra fluoride, omitting the mouth rinse could be just what your smile needs!
About the Practice
Spring Dentist is based in Spring, TX. Led by Dr. Joshua Kuykendall, it's a family and cosmetic dentistry that has served Spring and its surrounding communities for over thirty years. Their staff makes every effort to ensure that patients receive comfortable and effective dental treatment. In addition to cosmetics, they also offer preventive, restorative, and emergency dentistry. For more information or to book an appointment, they can be reached at their website or by phone at (281)-353-9797.