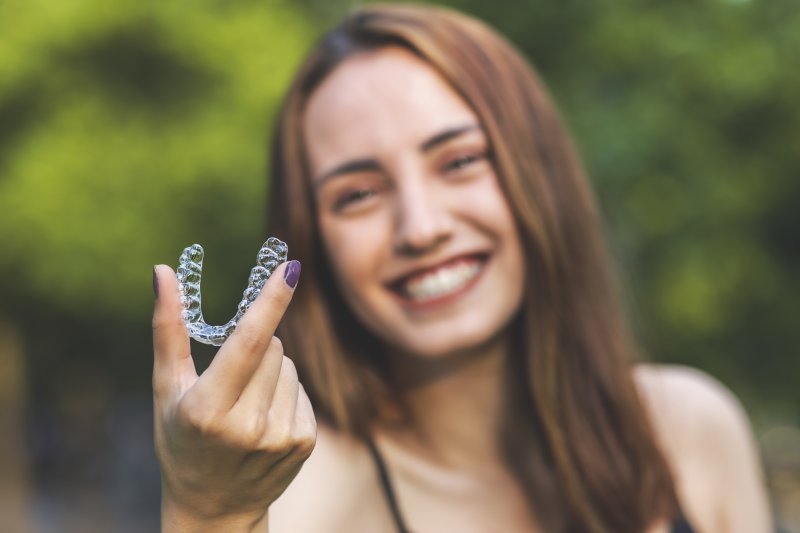 Are you looking to straighten your smile? One of the great things about living in today's world is the fact that you don't need to settle for a mouthful of metal brackets and wires in order to achieve a smile that you are proud to show off. Invisalign is a treatment that uses a series of clear aligners to slowly shift your teeth into their rightful locations. No one can even tell when you are wearing them! However, if you aren't caring for them properly, you could end up with some problems. Read on to learn the Invisalign do's and don'ts.
What Shouldn't You Do When You Have Invisalign?
In order to keep your Invisalign treatment on track, don't do the following:
Eat or drink while wearing your aligners: The only thing that you should consume when you are wearing your aligners is water. If you eat or drink anything else, you will need to take your aligners out beforehand so that you don't accidently damage or discolor them. Hot liquids can distort your aligners, and sugary liquids can become trapped and increase your chances of developing cavities. Your aligners aren't made to withstand the pressure of chewing.
Not cleaning your aligners properly: If you clean your aligners in water that is too hot, you could accidently distort their shape. Do not use harsh substances, like bleach or hydrogen peroxide, because they can degrade the plastic that your aligners are made from.
Leave your aligners out of the case: Always keep your aligners in your case while you aren't wearing them. This way, you are much less likely to lose them or accidently throw them away.
How Do You Properly Maintain Your Aligners During Invisalign Treatment?
Here are a few tips to help you keep your aligners in good shape throughout the duration of your Invisalign treatment:
Clean them daily: Use a soft-bristled toothbrush and clear hand soap to brush your aligners every single day to remove any plaque buildup and bacteria. If you don't clean them often enough, you could experience bad breath and tooth decay.
Soak your aligners: To keep your aligners fresh, you should soak them every day with Invisalign cleaning crystals or a non-abrasive denture cleaner. After you soak them for about 15 to 30 minutes, use a toothbrush to remove any residue.
Brush and floss: After each of your snacks and meals, you should brush and floss your teeth. At the very least you should rinse your mouth with water. If you don't, leftover food can become trapped between your teeth and aligners. This can cause staining and tooth decay.
When you use the tips listed above, your Invisalign treatment is more likely to go as planned. You will be showing off a straighter smile in no time!
About the Author
Dr. Joshua Kuykendall earned his Doctor of Dental Surgery degree from the University of Oklahoma College of Dentistry and has pursued advanced training in a variety of different specialties, including clear aligner therapy, Invisalign, and interceptive orthodontics. Currently, he is a member of the American Dental Association, Texas Dental Association, American Academy of Implant Dentistry, and the Greater Houston Dental Society. For more information on Invisalign or to schedule an appointment at his office in Spring, TX, visit his website or call (281) 353-9797.