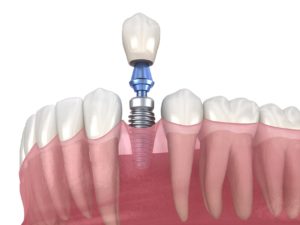 If you're missing teeth, you've likely heard dental implants are the most reliable solution to replace lost teeth. They have over a 95% success rate and can last for decades with the right aftercare. Although you know about their benefits, you might be wondering what's attributed to dental implant success? Here are 5 reasons they provide the most predictable results when treating tooth loss.
1. Replicate Entire Tooth Structure
A dental implant is unlike any other prosthesis because it recreates the entire structure of a tooth from the root up, not just the portion visible above the gum line. A titanium post is surgically placed into your jawbone to serve as a root. As a result, your restoration won't rely on the support of other teeth, suction, or an adhesive. This allows you to enjoy a solution that closely mimics your natural tooth.
2. Titanium Implant Posts
Dental implants have been made from various materials over the years, but titanium is the preferred choice because it's biocompatible. Your body naturally accepts the material, allowing your jawbone to fuse to the post through a process called osseointegration. The post can remain in place forever with the right aftercare, like maintaining your oral hygiene and visiting your dentist regularly.
3. Preserves Your Jawbone
A dental implant is the only treatment to stop bone loss associated with missing teeth. Since it recreates the root, the post stimulates new bone growth to keep your jaw strong and healthy. This will stop dental drift to preserve any remaining natural teeth while giving your facial structures support to maintain a youthful appearance.
4. Improves Your Oral Health
A dental implant doesn't require you to alter any healthy teeth. Not to mention, it prevents your teeth from moving out of position. Overall, a dental implant will improve your oral health to lower your risk of cavities, gum disease, and additional tooth loss. You'll safeguard your smile and lower your long-term oral health expenses using a treatment that's proven to last for 30 years or longer.
5. Advanced Technology
State-of-the-art technology is used to determine your candidacy for dental implants to minimize any risk for complications. Technology is also used to pinpoint the precise location for your implant posts for improved accuracy. Even when creating your restoration, your dentist will rely on technology to ensure precise measurements to create your replacement teeth to meet your exact specifications.
Benefit from the Best
If you're ready to permanently replace your missing teeth, you can benefit from a treatment that has a long track record for success. Find out for yourself why over 500,000 people per year are turning to dental implants to rebuild their smiles.
About Dr. Joshua Kuykendall
Dr. Kuykendall earned his dental degree at The University of Oklahoma College of Dentistry. He regularly continues his training to provide advanced services, like dental implants. As a member of the American Academy of Implant Dentistry, he has the qualifications and experience you can trust. Contact our office today to see if you're a candidate for dental implants.