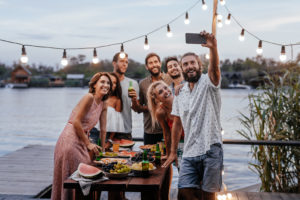 Now that summer is in full swing, many people are taking advantage of the nice weather to hang out with friends or family. Whether you're at a ball game or just grilling out in the backyard, you'll probably want to capture the memories by snapping a few photos. However, if your teeth are chipped, stained, or misaligned, you probably don't feel confident enough to smile fully for the camera. Fortunately, your cosmetic dentist can help! Here are 3 ways you can boost your smile this summer with cosmetic dentistry.
Professional Teeth Whitening
One quick and easy way to enhance your appearance is to whiten your teeth. Over-the-counter teeth whitening products are available at your local pharmacy, but they just can't deliver the same results as professional teeth whitening.    
Instead, ask your dentist about a take-home whitening solution like Opalescence Go. From the comfort of your own home, you simply apply powerful bleaching gel to the trays provided and wear them for about 20 minutes a day. After about two weeks of use, you will have a dazzling white smile that you will be eager to show off this summer!
Porcelain Veneers
Whether you have a single chipped tooth or want a complete smile makeover, porcelain veneers may be the right cosmetic solution for you. Veneers are thin, durable shells that bond to the front of teeth to hide a wide range of dental imperfections. Veneer treatment can typically be completed in just two trips to a cosmetic dentist. Major benefits of porcelain veneers include:
No recovery period
Natural appearance
Whiter teeth
Average lifespan of 10 to 15 years
It's important to note that veneers are considered an irreversible treatment since a tiny amount of enamel must be removed to make room for them in your mouth.
Invisalign Clear Braces
Invisalign is a great option if you want to discreetly straighten crooked or misaligned teeth. This popular orthodontic treatment utilizes a series of clear plastic trays to gradually shift teeth into the desired position. No unsightly metal brackets or wires necessary! Thanks to Invisalign clear braces, you can straighten your teeth this summer and still smile confidently in photos with friends.
In addition to being nearly invisible, Invisalign aligners are also easily removable. This means that you can continue to eat all your favorite summer foods during Invisalign treatment. Just be sure to clean your aligners after each meal before popping them back in.
Finally, Invisalign treatment can typically be completed in just 12 to 18 months. This is significantly faster than conventional metal braces!
Choosing the right cosmetic treatment this summer will depend on your unique smile goals and budget. Talk to your cosmetic dentist today to get started on rejuvenating your teeth and boosting your appearance!
About the Author
Dr. Joshua Kuykendall is dedicated to helping patients in Spring and The Woodlands communities achieve the beautiful smiles of their dreams. He regularly performs a wide range of cosmetic treatments and has completed advanced training in minimal-prep veneers and Invisalign. To learn more about how cosmetic dentistry can transform your smile, visit the Spring Dentist website or call 281-353-9797.