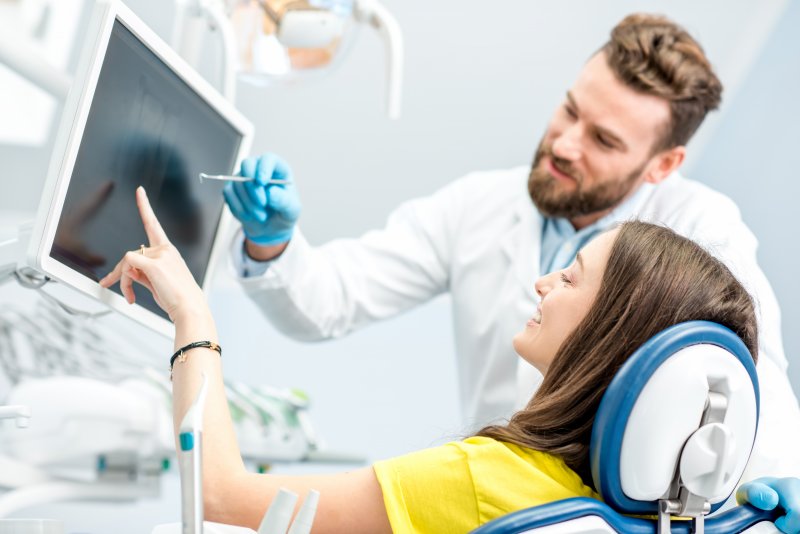 The American Association of Oral and Maxillofacial Surgeons (AAOMS) shared that 70% of adults ages 35 to 44 are missing at least one tooth. Additionally, the Centers for Disease Control and Prevention (CDC) has found that one in five adults over 65 are missing all of their teeth. Fortunately, there are several tooth-replacement options available that can fill in your smile, including dental implants and dentures. Though both can improve the look of your smile, which is the best option for jawbone preservation? Read on to learn whether dentures or dental implants are right for you.
Why Missing Teeth Cause Bone Loss
When you lose teeth, this impacts more than just the look of your smile. The parts of the jawbone where the teeth used to be no longer receive the stimulation they need from biting and chewing. Because of this, the jawbone will begin to deteriorate. In fact, as much as 25% of the jawbone in that area can be lost in the first year. This will also lead to significant changes in your facial structure, which will make your face look saggy. These reasons are why it's so important to look into a tooth-replacement option that's good for jawbone preservation.
Can Dentures Preserve Your Jawbone?
Dentures come with a variety of benefits, including completing the look of your smile and allowing you to eat a more varied diet than you could without them. Even so, they aren't the right option for preventing jawbone loss. Since dentures sit on top of your gums and are not anchored to the bone, they don't provide it with the stimulation it needs. In fact, there is some research that suggests that wearing dentures may actually increase jawbone atrophy.
Why Dental Implants Are the Better Option
Though dentures may not be the right option for jawbone preservation, dental implants are. Unlike dentures, dental implants are inserted directly into the jawbone. Once there, they spend the next four to six months fusing with it through a process called osseointegration. This provides it with the stimulation it needs to remain healthy. Dental implants can also last upwards of 20 years with proper care. In some cases, they can even last a lifetime.
Though dentures offer a range of benefits to those who wear them, dental implants are definitely the better option for jawbone preservation. If you're missing one or more teeth and interested in getting them, speak with your dentist so you can start your journey toward a healthier, happier smile!
About the Author
Do you live in the Spring area? Are you looking for a solution for missing teeth? Dr. Joshua Kuykendall is here to help. He has loved interacting with people for as long as he can remember and offers durable, realistic-looking dental implants to give you a complete smile and promote jawbone preservation. Do you want to learn more about the dental implant procedure or are you interested in scheduling an appointment with Dr. Kuykendall and his team at Spring Dentist? If so, call his office at (281) 353-9797 or visit his website to get started.