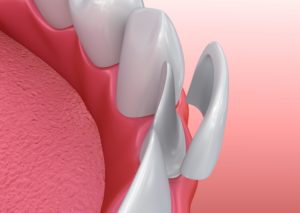 Everywhere you turn, it might seem like you're surrounded by stunning smiles. From the red carpet to your favorite online blogger, beautiful teeth are something everyone desires. However, few people are born with naturally attractive smiles. Believe it or not, many of the smiles you admire didn't come from genetics. People from all walks of life are improving their teeth with veneers. While you might believe they are a new treatment, the history of porcelain veneers dates back nearly a century. Here's how they've evolved over the decades to turn dream smiles into reality. 
Veneers Emerge in 1928
The first porcelain veneers were used in Hollywood by actor Charles Pincus during a film shoot. A removable adhesive was used to attach them to his teeth, which led to more celebrities choosing veneers to change their smiles. However, they didn't last long and were expensive. Over time, acrylic was used, but it wasn't very durable and didn't have a long lifespan, either.
Etching Revolutionizes Veneers in 1959
Dr. Michael Buonocore revolutionized veneers and many other dental procedures after inventing etching. He found a stronger bond is created when a weak acid is applied to a tooth to make its surface more porous. The deeper pits and grooves allowed dental cement to hold restorations in place for longer.
Research Continues in 1982
A research group perfected the etching and bonding technique in 1982. Hydrofluoric acid was painted on the surfaces of teeth before putting a putty-like material on them to bond restorations, like veneers. This allows the bonding resin to seep into more parts of the tooth to create the first semi-permanent veneers. Instead of veneers only lasting for a few days or months, they were thriving for years before needing repaired, reattached, or replaced.
Benefits of Modern Veneers
During the last few decades, veneers have gotten thinner without compromising their durability. Instead, it allows less enamel to be removed during the preparation process to maintain more tooth structure. This not only preserves a patient's natural smile but also makes the procedure less invasive. The same bonding method is still used today, allowing veneers to have a life expectancy of 10 years or more with the right maintenance, like brushing and flossing.
Overall, modern veneers provide a variety of advantages, including:
Results that look and feel natural
Fix several imperfections simultaneously
Minimally invasive procedure with quick results
Durable, cost-effective solution
Easy maintenance and care
You don't have to be rich or famous to enjoy the smile of your dreams. Your cosmetic dentist has the solution for you using a tried and proven method. Schedule your cosmetic consultation to take your first step toward a confident smile.
About Dr. Joshua Kuykendall
Dr. Kuykendall earned his dental degree at the University of Oklahoma College of Dentistry and has continued his education in several advanced services, including minimal prep veneers. He has the training and qualifications you can trust to invest in cosmetic dentistry. Contact our office today to request your consultation for porcelain veneers.