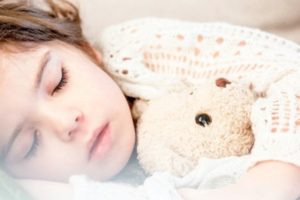 Sleep apnea is a very widespread problem—every night, millions of people miss out on countless hours of sleep due to the condition. And sadly, many more cases go completely undiagnosed! But while there are several different factors that can contribute to sleep apnea, it's important to note that the condition doesn't just affect adults; children are vulnerable too! That said, here's what you need to know about children's sleep apnea, along with what you can do to address the issue.
Sleep Apnea in Children
Sleep apnea in children, referred to as pediatric sleep apnea, is a special category of obstructive sleep apnea. It occurs when your child's breathing is partially or completely blocked during sleep, typically caused by the throat or jaw muscles relaxing and blocking the airway. When this happens, your child must wake up to normalize their breathing. And since this can happen hundreds of times throughout the night, that lost sleep can quickly begin to add up and spell bad news for your child!
Although anyone can be affected by sleep apnea, research shows that 1% to 4% of children suffer from it, most of them falling between the ages of 2 and 8 years old. Contributing factors often include things like obesity, enlarged tonsils or a larger-than-average tongue, craniofacial anomalies, and certain medical conditions like cerebral palsy or Down syndrome.
Common Pediatric Sleep Apnea Symptoms
The most common symptom associated with pediatric obstructive sleep apnea is snoring, as the sound is often indicative of a breathing problem! Other things to be on the lookout for if you suspect your child suffers from sleep apnea include:
Coughing or choking during sleep.
Frequently breathing through their mouth.
Pauses in breathing.
Bed-wetting.
Sleep terrors.
There are also several daytime symptoms that indicate sleep disruption, including:
Poor performance in the classroom or during sports.
Difficulty paying attention.
Noticeable fatigue.
Behavioral problems.
Poor weight gain.
Hyperactivity.
Treating Pediatric Sleep Apnea
Fortunately, pediatric sleep apnea is very treatable with a little professional help! A sleep study, which is a noninvasive diagnostic test, can help to determine if your child has sleep apnea. Once they've been diagnosed with sleep apnea, you can then begin moving forward with the treatment process. One common solution is a custom-made oral appliance that gently shifts the jaw during sleep to promote easier breathing. If enlarged tonsils are the root of the issue, they might need to be removed. Orthodontic treatment is also another viable option for addressing pediatric sleep apnea.
Sleep apnea is detrimental to everyone, but especially children! By knowing what causes sleep apnea and how it can manifest in your child, you'll be much better equipped to get them the treatment they need.
About the Author
Dr. Joshua Kuykendall received his dental doctorate from the University of Oklahoma College of Dentistry and is a proud member of several professional organizations including the American Dental Association and the Texas Dental Association. His practice is proud to offer sleep apnea treatment. If you have any questions about sleep apnea or suspect that your child is suffering from it, don't hesitate to visit the practice's website or call for assistance: (281) 353-9797.